October 27, 2023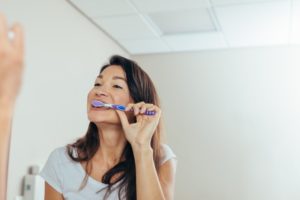 October was first declared as Dental Hygiene Month in 2009 by the American Dental Hygiene Association in an effort to remind people about the importance of keeping their smile clean and healthy. Some of the top contributors and risk factors for both oral and medical health concerns are common dental issues that result from poor oral hygiene, like cavities and gum disease. This October, celebrate your smile by following some of these helpful tips to boost your dental hygiene.
1. Always Take the Time to Brush Properly
When you brush your teeth each morning and evening, are you positive you're doing it correctly? The ADA recommends brushing at a 45-degree angle to the gums, being sure to clean the inside surface of the teeth, as well as the molars. It's also important that you don't forget to brush your tongue. Using fluoride toothpaste can help you fight cavities, and don't forget to brush your teeth for at least two minutes each time.
2. Don't Skip on Flossing
In addition to brushing twice a day, keeping your teeth and gums healthy also requires flossing at least once a day. This will help remove lodged food debris and plaque from between your teeth, preventing the gums from becoming inflamed as well as keeping decay away. The best way to floss is to gently wedge it between each of your teeth, curving it into a "C" shape against the side of the tooth. Although it can get a little harder the more you reach towards the back of your mouth, it's crucial to floss between every one of your teeth.
3. Attend Two Professional Checkups & Cleanings a Year
Dental hygiene isn't just contained to at-home practices like brushing and flossing. In fact, a crucial part of avoiding common oral health problems or dental emergencies is attending your bi-annual checkups and cleanings with your dentist every year. At these visits, diagnostic images (like X-rays) will be taken, and a thorough examination of your teeth and gums will be conducted to make sure that any lingering oral health issues are treated as early as possible. Finally, the professional cleaning will help ward off the threat of cavities and keep your smile looking and feeling healthy.
4. Maintain a Balanced Diet
Although you may not associate what you eat with your oral health, consuming foods that are high in carbohydrates can turn your mouth into a breeding ground for bacteria, leading to infections and decay. Try substituting one or two of your go-to snacks, like potato chips or candy, with a better alternative for your smile, like fresh fruits and vegetables.
About the Author
Dr. James Gray has been in practice for over 30 years, offering multiple generations of families in Arlington high-quality preventive dental care, like checkups and cleanings. He offers a wide range of services to take care of the entire spectrum of dental health concerns, ranging from cavities to sleep apnea, and he's happy to treat patients of all ages. Schedule an appointment today by visiting James T. Gray, DDS' website or call 817-460-4131.
Comments Off

on 4 Tips to Help You Celebrate Dental Hygiene Month
No Comments
No comments yet.
RSS feed for comments on this post.
Sorry, the comment form is closed at this time.