July 14, 2023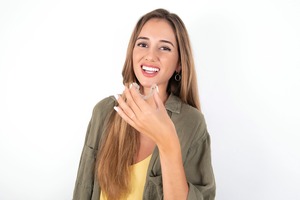 Invisalign boasts a 96% success rate, and it can be a very attractive choice for patients who want to correct certain orthodontic issues like crowded teeth or an overbite. Once you know that you're eligible for this treatment and have decided to move forward with it, the next question is when you should start. Below are 4 reasons why beginning Invisalign in the summer could be a wise move.
1. Your Schedule is Likely to Be More Flexible
Do you have a few vacation days saved up for the summer? The extra time off can make setting up dental visits less of a hassle, meaning you can fit an Invisalign consultation (as well as any follow-up appointments you might need) into your schedule more easily. Additionally, the extra downtime during the summer can give you a chance to get used to your aligners without having to worry about school or work.
2. You Can Still Enjoy Summer Snacks Even with Invisalign
Many people are reluctant to start wearing traditional braces because they know that their diet will be significantly limited for a while. In contrast, Invisalign will allow you to indulge in all your favorite snacks – including summer favorites like popcorn – without any trouble. All you need to do is remove your aligners before eating and pop them back in once you're done. (Don't forget to rinse your aligners off before you wear them again.)
3. You'll Be Able to Smile Confidently for Summer Photos
One of the big selling points of Invisalign is how discreet it is. The aligners used for the treatment are made out of a transparent material and are thus much less noticeable than braces. As such, you don't have to worry about hiding your grin whenever your family stops to take photos throughout the summer; you can simply smile for the camera without worrying about your aligners standing out.
4. You Can Start Improving Your Smile for Next Summer
Many Invisalign treatments only take around 12 months, and some can be completed in even less time than that depending on the circumstances. So if you start wearing clear aligners now, there's a good chance that your Invisalign treatment will be complete by the time next summer arrives; at the very least, you'll likely have made significant progress toward your goals. You can start looking forward to showing off an improved smile in next year's vacation pictures!
If you set up a consultation with your dentist, they can go into more detail about the benefits of Invisalign as well as what you can expect during the process. Don't let summer pass you by without taking the first steps of your Invisalign journey!
About the Author
Dr. James T. Gray is an active member of dental organizations such as the Texas Dental Association, the Fort Worth District Dental Society, and the American Dental Association. Thanks to Invisalign, he can help his patients in Arlington overcome a variety of dental alignment issues. To schedule a consultation with Dr. Gray, visit his website or call (817) 460-4131.
Comments Off

on 4 Reasons to Start Wearing Invisalign in the Summer
No Comments
No comments yet.
RSS feed for comments on this post.
Sorry, the comment form is closed at this time.