April 2, 2023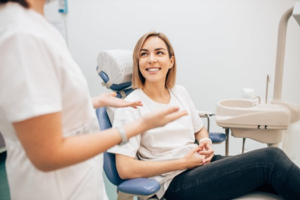 Oral cancer is a fairly widespread issue; in fact, it's estimated that around 54,000 new cases are diagnosed annually. Despite continual advancements in medicine and healthcare, there is still no definitive cure for the disease—and to make matters worse, catching it late can often result in being unable to fully treat it. However, there are also many risk factors associated with it and preventive measures you can take, and by arming yourself with this knowledge, you'll have much better odds of preventing oral cancer from taking a toll on your wellness. Here's what your dentist wants you to know.
Common Risk Factors Associated with Oral Cancer
Did you know that oral cancer can potentially affect every structure inside your mouth? This includes not just your teeth and gums, but also your tongue, lips, cheeks, and throat. With so many parts of you at risk, there are many common risk factors that are normally associated with the disease, including:
Smoking and using tobacco products
Excessive alcohol consumption
HPV (Human Papillomavirus)
Sun or radiation exposure
Weakened immune system
Other types of head or neck cancer
Chronic poor oral hygiene
Old age
Common Warning Signs to Watch For
It's not always obvious when there's something wrong with your smile, but there are at least several warning signs associated with oral cancer that you can keep your eyes peeled for. You shouldn't hesitate to contact your dentist if you notice any of the following warning signs:
Swelling in your mouth, neck, or throat
Lumps in your cheeks
Abnormalities that bleed easily when touched
Red, pink, black, or white sores on your mouth tissues
Loose teeth
Constant bad breath
Difficulty speaking, chewing, or swallowing
Minimizing Your Risk of Oral Cancer
Oral cancer is actually among the most preventable types of cancer, and there's a lot you can actively do to not just protect yourself from it, but also put any anxiety you have to rest. Perhaps the best thing you can do is to visit your dentist every six months for a routine checkup and cleaning. These visits include an oral cancer screening, in which your provider will inspect your mouth and look for any precancerous signs that warrant further consideration. Oral cancer isn't always obvious, so letting a trained pair of eyes inspect your smile is the right move.
It's also crucial to maintain a clean mouth by brushing, flossing, and using antibacterial mouthwash regularly. But oral hygiene goes beyond what you do in front of the bathroom mirror; eating a healthy diet, drinking plenty of water in favor of sugary drinks, and avoiding unfavorable oral habits like smoking are all integral in the ongoing battle against health issues like oral cancer. Even limiting your mouth's exposure to the sun by wearing a hat or using SPF lip balm can have an impact—don't neglect the small things, as they can notably contribute toward shielding your smile.
This Oral Cancer Awareness Month, you shouldn't second guess anything that might be going on with your smile. It's far too important to your overall well-being to let it unknowingly suffer from a nasty issue like oral cancer!
About the Author
Dr. James T. Gray has proudly served patients and families in Arlington, TX, and the surrounding area for several years. Dr. Gray received his DDS from the University of Texas Dental School at San Antonio and is a member of numerous professional dental organizations, including the American Dental Association and the Texas Dental Association. His practice offers a wide range of preventive, cosmetic, and restorative services that are certain to help you maintain a healthy and beautiful smile. If you have any questions about the article or are due for your next checkup, don't hesitate to contact the practice today for assistance or to schedule a visit. Telephone: (817) 460-4131.
Comments Off

on What Your Dentist Wants You to Know About Oral Cancer
No Comments
No comments yet.
RSS feed for comments on this post.
Sorry, the comment form is closed at this time.