March 25, 2022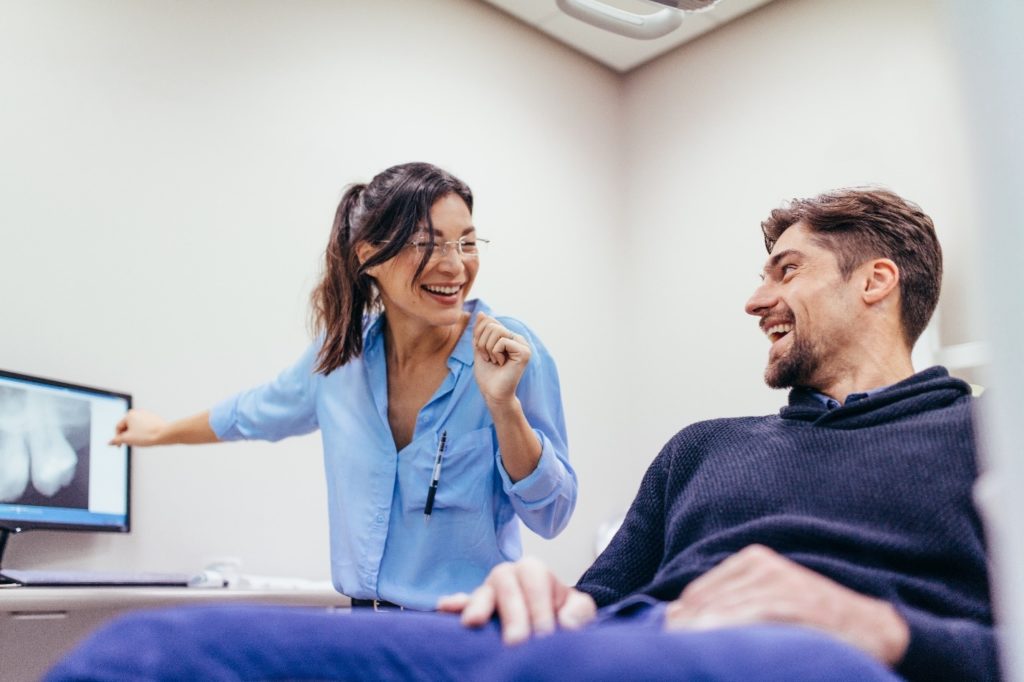 Dental crowns are one of the most common restorative dentistry services. In addition to being incredibly lifelike, they can "cap" a decayed or damaged tooth, effectively preventing it from sustaining further damage. However, they likely won't last a lifetime – 10 to 15 years is the average lifespan. While your dentist will take a look at it during each six-month dental checkup, it's important to also be aware of the signs that signal it's time to get it replaced. Here are a few!
4 Signs That Your Dental Crown Needs to be Replaced
There are several signs that indicate a dental crown replacement may be necessary, including:
A receding gumline – Over time, bacteria can collect around the dental crown, leading to an increased risk of gum disease. If your gumline begins to recede, then it's a sign that the crown needs to be replaced.
Pain or swelling – Following the placement of your permanent dental crown, you should not experience any pain or swelling. These are two symptoms that you need to discuss with your dentist.
Wear and tear – Over the years, your crown may become worn down. After all, the pressure from chewing is quite extensive! This symptom often is associated with teeth grinding or clenching, which is why a preventive mouthguard is often recommended.
Damage or discoloration – If your crown gets cracked or chipped, or the color is no longer pleasing to you, then you should talk to your dentist about having it replaced.
When to Talk to Your Dentist
All of the previously mentioned signs warrant a call to your dentist. However, some concerns are more urgent than others. For example, a receding gumline or pain when you chew could signal an infection or the development of another serious dental problem. On the other hand, slight discoloration is an issue that can likely wait until your next biannual checkup and cleaning.
How to Prolong the Lifespan of Your Dental Crown
With proper care, your dental crown can last for well over a decade. But what does "proper care" entail? Here are a few best practices to implement:
If you grind or clench your teeth at night, wear a mouthguard.
Steer clear of sticky, chewy foods, like taffy.
Avoid unhealthy dental habits, including nail-biting and smoking.
Brush your teeth for two full minutes each morning and evening.
Floss daily.
Visit your dentist every six months for a checkup and cleaning.
If your dental crown is more than 10 years old or you are experiencing any of the above symptoms, then don't wait to get in touch with your dentist. The sooner you do, the sooner you'll have a fully functional smile again!
About the Author
Dr. James T. Gray began his career in dentistry after graduating from the University of Texas Health Science Center at San Antonio. Over the last 30+ years, he has continued to prioritize advanced training and various dental study clubs to stay abreast of the latest techniques and technology. As a result, he has the education, training, and talent needed to meticulously restore decayed and otherwise damaged teeth! If you have a question about caring for your dental crown or would like to schedule an appointment to see if yours needs to be replaced, don't hesitate to get in touch via his website or by phone at (817) 460-4131.
Comments Off

on 4 Tell-Tale Signs That Your Dental Crown Needs to be Replaced
No Comments
No comments yet.
RSS feed for comments on this post.
Sorry, the comment form is closed at this time.