February 19, 2022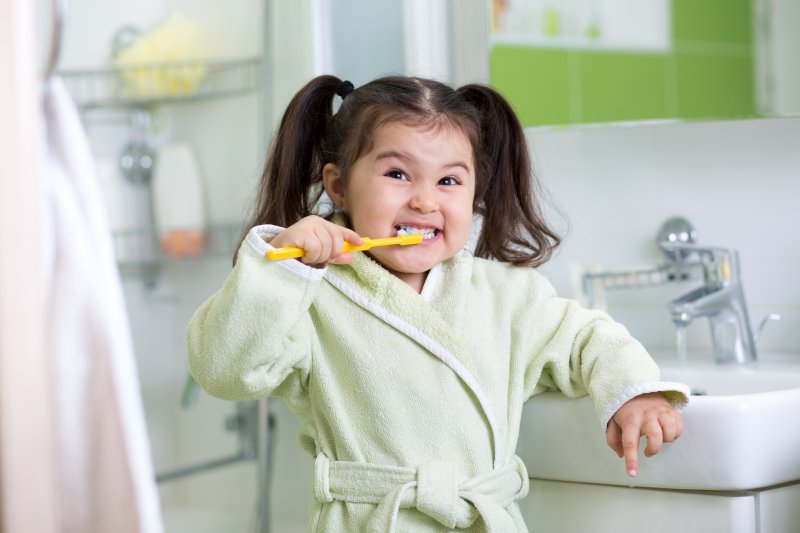 Did you know that February is Children's Dental Health Month? It's a time to be thinking of ways that you can improve your little one's oral hygiene and give their smile the best possible protection as they continue to grow. One of the most important steps you can take is to make sure that your child is learning good oral hygiene habits, and there are plenty of kid-friendly dental products on the market that can make the learning process more fun for them. Below are 4 products that your dentist in Arlington might recommend to make brushing and flossing exciting.
1. Child-Friendly Toothbrushes
Why get your child a regular toothbrush when you can find one that has all kinds of fun features? Some electric toothbrushes for children light up or play songs when in use, giving your little one something to look forward to at each brushing session. In many cases, you can even find a toothbrush that features some of their favorite characters. And if you want a toothbrush that actively encourages better brushing habits, you can look for one that has an automatic timer. This gives you an easy way to make sure that your child is brushing for a full two minutes.
2. Sparkle Fun Toothpaste
"Sparkle fun toothpaste" is a special kind of toothpaste made especially for kids. It's blue, has a sweet bubble gum taste, and – of course – is very sparkly. This kind of toothpaste makes it easier for children to get into brushing, allowing them to build up stronger oral hygiene habits as early as possible.
3. Unique Flossers
It can be very hard to convince children to start flossing regularly, but it's best to do so now so that they are more likely to do so on their own. A good solution is to give your children disposable flossers that are easier to use than traditional dental floss. You can find kid-friendly flossers that come in fun shapes and a variety of tropical flavors that your little one might find more enjoyable than mint.
4. Colorful Fluoride Mouthwash
Compared to brushing and flossing, using mouthwash is a lot easier for children to get the hang of. Just like toothpaste, children's mouthwash can come in different flavors and feature their favorite characters. Sometimes it can give food particles a particular tint so that once your child spits, they have a visual of all the bacteria they just got rid of. You should only introduce mouthwash into your child's oral hygiene routine once you're sure they're old enough to use it without swallowing.
With these products, you can make Children's Dental Health Month the start of a new and improved chapter for your child's oral development. Talk to your children's dentist today if you'd like to explore more ideas for encouraging better smile care.
About the Author
Dr. James T. Gray has been in practice for 30 years and is currently active in the Texas Dental Association. He is committed to bringing high quality general and restorative care to Arlington Families, and he's always happy to give parents advice for making good oral hygiene a part of their children's lives. To schedule an appointment for your little one, visit our website or call (817) 460-4131.
Comments Off

on 4 Dental Products That Can Make Oral Hygiene Fun for Children
No Comments
No comments yet.
RSS feed for comments on this post.
Sorry, the comment form is closed at this time.