November 9, 2021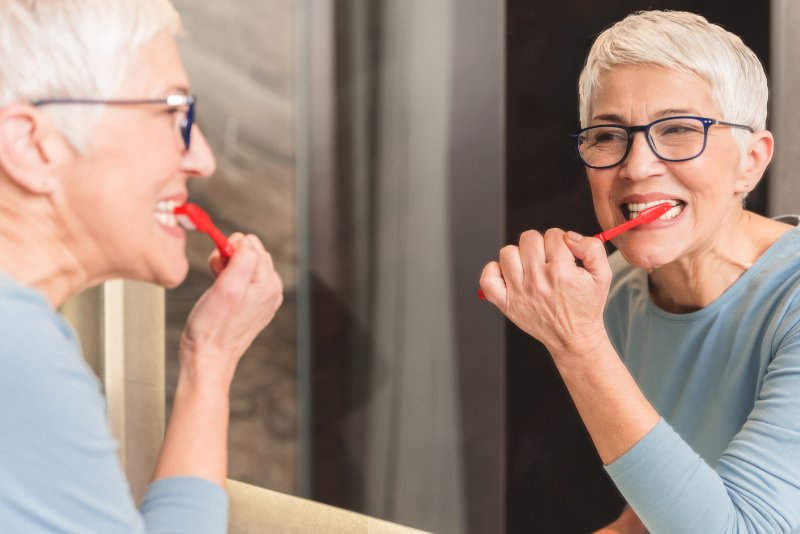 Are you or a loved one older in age? Do you worry your teeth and gums may be at risk for common oral health problems? It's not uncommon for many mature adults to feel as if they may be at a disadvantage when it comes to their dental health simply because of their age. However, a dentist in Arlington shares five oral hygiene tips that will help you better maintain a stronger, healthier, and more beautiful smile throughout the later years in life.
Maintain a Regular At-Home Oral Hygiene Routine
You will need to brush twice a day for two minutes, use a soft-bristled toothbrush, floss at least once a day before bedtime, and rinse with an ADA-approved mouthwash. This helps remove bacteria and harmful particles that may try to cause cavities or gum disease.
Keep Dental Checkups and Cleanings With Your Dentist
Unless otherwise recommended, you are advised to keep your dental checkups and cleanings every six months. This allows your dentist to examine your oral cavity for any signs of decay, periodontal disease, or oral cancer. If they can catch problems early on, it can save you valuable time and money on restorative services that are often necessary for more mature patients.
Wear a Nightguard to Protect Your Teeth
It may not seem like a likely suggestion, but if you grind or clench your teeth at night while sleeping, you'll need to talk to your dentist about having a customized nightguard created. These oral appliances serve as a cushion to keep teeth from touching and wearing down tooth enamel. They also help to relax facial muscles and joints to minimize jaw pain and the potential for temporomandibular joint disorder (TMD).
Give Up Bad Habits
Smoking, eating ice, chewing on pens and pencils, using your teeth as tools, and bruxism are all bad habits that need to stop. Whether your dentist has mentioned it to you or not, these unhealthy choices can severely damage your teeth and soft oral tissues, causing significant harm over time. A trip to the emergency dentist should be avoided at all costs, but if you continue to practice these bad habits, you'll be seeing them for extensive and costly procedures designed to save and repair your smile.
Eat a Nutritious Diet
Sugars and starches may be the most tempting to eat, but they'll damage your teeth and cause them to decay over time. Instead, swap these out for fresh fruits and vegetables, lean proteins, leafy greens, and low-fat calcium. Having a cookie or slice of pie now and then is fine in moderation, but it's imperative your body receive valuable nutrients to keep your teeth, gums, and vital organs in optimal shape.
Although these are only five dental hygiene tips for seniors, it's a great place to start. Talk to your dentist for further information if you want to know what else you can do to take better care of your smile.
About the Author
Dr. James Gray is a dentist for seniors who has been practicing dentistry for more than 30 years. Graduating from the University of Texas Dental School at San Antonio, he and his team provide the highest quality care for patients of all ages. At his dental office in Arlington, he and his team provide comprehensive care with a compassionate approach. Equipped with some of the very best dental hygienists in the area, individuals who visit our dental office can expect top-of-the-line care every single time. Visit our website or call (817) 460-4131 to find out how we can help you in your oral healthcare journey.
Comments Off

on 5 Oral Hygiene Tips for Seniors
No Comments
No comments yet.
RSS feed for comments on this post.
Sorry, the comment form is closed at this time.