September 13, 2021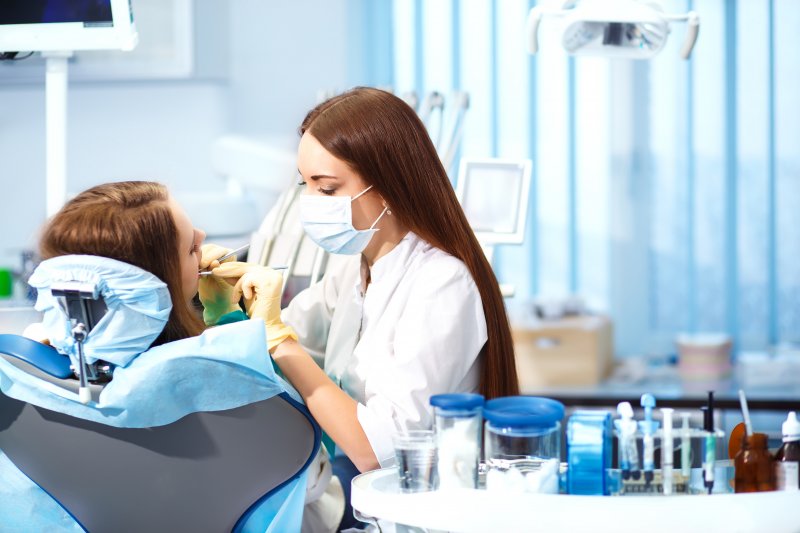 If you think the only thing a dental hygienist does is clean your teeth, you'll be surprised to learn they carry much more responsibility than that! As integral members of a dental office, their responsibilities span far and wide, making them vital to the success of any practice. To give you better insight into this unique role, a dentist in Arlington is here to share what a normal day looks like for a dental hygienist.
The Responsibilities of a Dental Hygienist
From the moment they arrive at work to the time they leave, dental hygienists are always on the go. Depending on what time the office opens, they're usually there about 30 minutes to one hour before the practice opens its doors. Why? Because it's necessary to gather patient charts and review the reasoning for their visit. They'll also go over the individual's medical history and what was accomplished during the person's most recent visit.
While it might seem like the only responsibility they have is to then clean teeth throughout the day, this couldn't' be further from the truth. Other common responsibilities held by dental hygienists include:
Conducting Initial Screenings
When a patient arrives for a general cleaning, it is helpful to the dentist to have the dental hygienist perform an initial screening. With their careful eye, they can identify early signs of tooth decay, cavities, and gum disease, and report this information to the dentist. Not only does this make appointments more efficient, but it also gives both the hygienist and dental professional a clear view of what is occurring inside the patient's mouth. Since some offices do not have dental assistants, the hygienist must enter any changes to the patient's chart for future reference.
Capturing Digital Imaging
If necessary, a dental hygienist will escort a patient back to the imaging or treatment room to undergo digital X-rays. This gives all patients a complete view of the oral cavity and all nearby facial structures. Also, depending on the needs of the individual and recommendations of the dentist, a dental hygienist will take impressions if a customized restoration is needed.
Patient Counselor and Educator
It may seem odd that a dental hygienist would serve in these types of roles, but if dental assistants are not part of the normal staff, they can help to alleviate the fears of those who haven't seen a dentist in years or who are embarrassed by their decayed or broken smile. Dental hygienists also serve to provide educational information to all patients, imparting sound and factual advice to help individuals take better care of their teeth and gums in-between appointments.
Caring for Patients
And let's not forget their role in removing plaque and tartar from teeth and gums, providing fluoride treatments, applying dental sealants, administering scaling and root planing to periodontal patients, and even assisting in more complex procedures (i.e., dental fillings, crowns, and root canal therapy).
When working with patients of all ages, dental hygienists must know how to approach each situation with the utmost compassion and care. Their careful attention to detail and commitment to improving smiles are not just part of the job but who they are as professionals and people.
About the Author
Dr. James Gray has been practicing dentistry for more than 30 years. Graduating from the University of Texas Dental School at San Antonio, he and his team provide the highest quality care for patients of all ages. At his dental office in Arlington, he and his team provide comprehensive care with a compassionate approach. Equipped with some of the very best dental hygienists in the area, individuals who visit our dental office can expect top-of-the-line care every single time. Visit our website or call (817) 460-4131 to find out how we can help you in your oral healthcare journey.
Comments Off

on A Day in the Life of a Dental Hygienist
No Comments
No comments yet.
RSS feed for comments on this post.
Sorry, the comment form is closed at this time.