August 16, 2021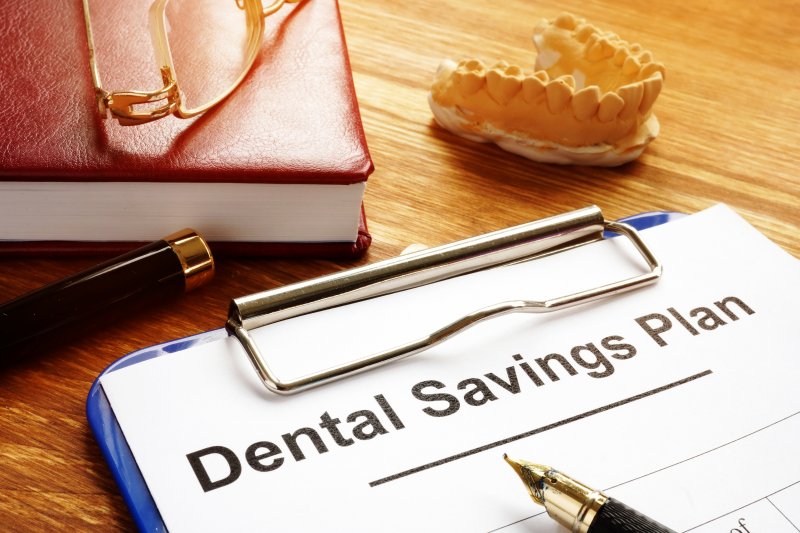 Is dental insurance not part of your employer's benefits package? Don't worry, you're not alone. Many individuals often find themselves without available coverage but desire regular dental care by a trusted professional. Fortunately, many dentists now offer a dental savings plan to help those who are without insurance. Designed to offer patients a way to receive preventive care and discounts on other available treatments, you may wonder if this solution is right for you. A dentist in Arlington is here to explain how this type of plan works and why you should consider enrolling.
What is a Dental Savings Plan?
Health or dental insurance plans provide a host of benefits in exchange for a monthly premium. Policyholders have a deductible they must meet before the insurer will pay a percentage of the total cost. Also, an annual maximum determines how much a person's insurance company will pay in a single year. While this is a fine setup for some, those whose employers don't provide dental insurance or those who cannot afford a private policy are often left wondering how they'll pay for regular dental care.
This is where a dental savings plan comes in. This unique benefits program provides eligible patients with access to basic preventive care and discounts for a yearly membership fee. While each plan and its benefits are different, you and your family have the ability to choose which one is right for you.
What Are the Pros and Cons of a Dental Savings Plan?
When it comes to weighing the pros and cons of a dental savings plan, it's important to formulate a list to help you make the right decision for you and your family. Some key points you'll likely discover include:
Dental savings plans require no waiting periods, which is great news for individuals needing immediate treatment.
Dental savings plans are a good option for those without dental insurance.
A dental savings plan can lower your out-of-pocket expenses and doesn't require a deductible or copay.
However, you should also know that dental savings plans also do not cover the full cost for any particular treatment, and you are limited as to who you can see since these plans are usually offered by individual dental offices.
Who Should Consider Enrolling?
So, is a dental savings plan right for you? The only way to know for sure is to sit down and weigh your options. You know you cannot afford private insurance on your own, so consider the following to determine if a membership-style plan is the best course of action:
You have good oral hygiene and most often do not require more than general checkups and cleanings.
You need extensive dental work, but you'll likely need help to pay the remaining balance of what your dental savings plan will not cover.
You're unemployed and need dental treatment.
You have Medicare but need a plan to cover dental services.
Traditional dental insurance isn't the only way to affordably see a dentist these days. With a dental savings plan, you can get the care you need without breaking the bank.
About the Author
Dr. James Gray has been practicing dentistry for more than 30 years. Graduating from the University of Texas Dental School at San Antonio, he and his team provide the highest quality care for patients of all ages. At his dental office in Arlington, he and his team will work to find a solution that closely aligns with your budget. Whether you have dental insurance or not, we can help lower your out-of-pocket expenses and ensure exceptional service. If you need help to better understand the financial obligations of your upcoming treatment, visit our website or call (817) 460-4131.
Comments Off

on Is a Dental Savings Plan Right For Me?
No Comments
No comments yet.
RSS feed for comments on this post.
Sorry, the comment form is closed at this time.