October 19, 2020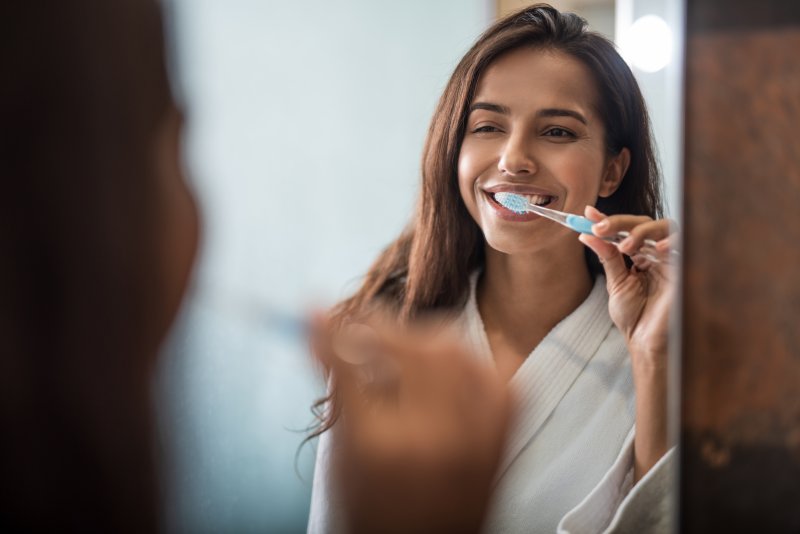 Happy National Dental Hygiene Month! Whether you are an oral care fanatic or know your brushing and flossing routine needs an upgrade, October is the perfect month to implement new dental care habits. After all, the most candy-filled holiday is only a few weeks away and the holiday season is just around the corner! If you are unsure where to start, read on as a dentist in Arlington shares five dental hygiene tips for a better smile.
#1. Don't Go to Bed Without Brushing Your Teeth
When your cozy covers are calling your name after a long day, it can be oh-so-tempting to forgo brushing your teeth before bed. However, doing so allows the food particles, bacteria, and plaque to stick to the surfaces and crevices of your teeth as you sleep, leaving you vulnerable to tooth decay and gum disease. Therefore, make sure to always brush your teeth before turning in for the night.
#2. Always Clean Your Tongue
Your tongue takes up a large amount of real estate in your mouth, which means it can quickly become home to plaque and bacteria that can lead to bad breath. Fortunately, using your toothbrush or a tongue scraper to clean your tongue can help keep your teeth and gums in tip-top shape! Just make sure to work from the back to the front to prevent accidentally ingesting what's collected on your tongue.
#3. Make Flossing As Important As Brushing
Did you know brushing alone only cleans about 60% of your teeth? Not only can flossing daily clean the other 40%, but it can also stimulate the gums, reduce plaque, and lower inflammation. If traditional floss is too difficult, you can opt for a floss pick or water flosser to effectively remove anything lodged between your teeth.
#4. Be Mindful of the Candy You Eat This Season
The most "spooktacular" holiday is just around the corner: Halloween! While the costumes and festive décor are crucial parts of the festivities, it just wouldn't be the same without tons and tons of candy. However, these sugary treats can leave your teeth vulnerable to stains, decay, and cavities. Therefore, it is important to limit your consumption, stick to dark chocolate when you can, and immediately complete your oral hygiene routine when you're done.
#5. See Your Dentist Twice a Year
Due to the recent stay-at-home orders, many patients haven't visited their dentist at all this year. However, only your dental team can effectively remove stubborn plaque and tartar, which can lead to cavities and gum disease if neglected. So, if you haven't already scheduled your biannual appointment, make sure to do so right away!
In honor of National Dental Hygiene Month, there is no time like the present to upgrade your oral care routine. Fortunately, you can use the above tips to help you get started!
About the Author
Since graduating from the University of Texas Dental School, Dr. James T. Gray has spent the last three decades helping his patients in Arlington achieve pristine oral health and beautiful smiles. Outside the office, he remains an active participant in the Fort Worth District Dental Society and the Implant Team International to stay at the forefront of dental technology. Plus, he is a member of multiple professional organizations, including the American Dental Association. If you are overdue for your bi-yearly appointment, don't hesitate to visit his website or give him a call at 817-460-4131.
Comments Off

on Happy National Dental Hygiene Month! Here's 5 Tips For a Healthier Smile
No Comments
No comments yet.
RSS feed for comments on this post.
Sorry, the comment form is closed at this time.