June 9, 2020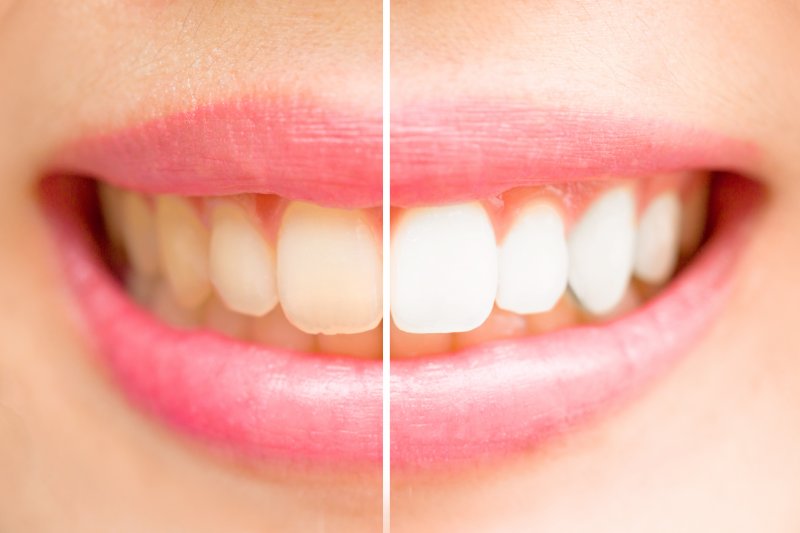 Is your smile ready for summer? Are you prepared to show off your pearly whites in pictures or at special events? If yellow teeth are keeping you from embracing the spotlight or even spending time with family and friends, you might consider how teeth whitening in Arlington can give you the improved aesthetic you need to feel confident about your appearance.
What Causes Teeth to Appear Yellow?
Although tooth enamel is a natural, protective barrier against bacteria and food particles that can cause tooth decay and staining, it cannot last forever if proper care is not administered to your teeth. Over time, the foods and beverages you consume as well as bad habits can negatively impact the health and aesthetic of your smile, resulting in less than beautiful pearly whites.
Some of the most common causes of yellow teeth include:
Dark-colored foods and beverages
Smoking or tobacco use of any kind
Overuse of fluoride as a child
Teeth grinding or clenching
Poor oral hygiene
Age
How Teeth Whitening Can Improve Your Smile
While you may not be able to stop the aging process and the thinning of tooth enamel that often comes with it, this something you can do to keep a discolored smile from adversely impacting your daily routine – teeth whitening.
Opting to see a professional for this type of cosmetic service will prove more beneficial than buying one of the many store-bought kits available. Why? Because someone knowledgeable, trained, and equipped to provide this form of treatment will be able to monitor your progress and deliver high-quality results every time.
Many dental practices now offer in-office or at-home teeth whitening kits, allowing you to decide which method is most convenient for you. Want to see fast results for an event this weekend? You should opt for in-office treatment. Using the Opalescence Boost system, it will blast away surface and stubborn, deep-down stains, leaving you with a whiter, brighter smile. Because of its activated hydrogen peroxide, you will not be required to sit under a specialized light during your in-office treatment.
Do you prefer to whiten your smile on your own time? Let Dr. James Gray, your cosmetic dentist know that you would like the at-home kit. Creating customized whitening trays for you to use, your dental team will also provide you with Zoom! Whitening gel that is powerful enough to eliminate stains above and below the surface of your teeth.
No matter which method you choose, professional whitening is a great way to say goodbye to your yellow teeth. Kickstart your summer with a visit to your cosmetic dentist and discover just how beneficial this treatment can be when it comes to achieving a radiant, more beautiful smile.
About the Author
Dr. James Gray has been practicing in the field of dentistry for more than 30 years. Earning a bachelor's degree in biochemistry from the University of Texas, he went on to graduate from the University of Texas Dental School at San Antonio. Dr. Gray and his team want to provide all patients with the ability to achieve healthier, more beautiful smiles, so when problems like stains or discoloration exist, he offers a solution that can help – teeth whitening! To find out how you can begin seeing a noticeable difference in the color of your smile, visit our website or call (817) 460-4131.
Comments Off

on Can Yellow Teeth Become White?
No Comments
No comments yet.
RSS feed for comments on this post.
Sorry, the comment form is closed at this time.