May 8, 2020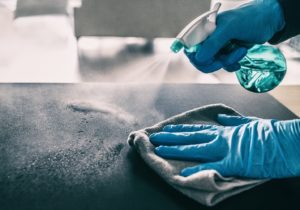 Your dentist in Arlington is committed to maintaining a safe dental practice during COVID-19. Even though the virus that causes the disease is an invisible and formidable enemy, it is possible to win the fight against it thanks to strict cleaning protocols. In this blog post, we discuss some of the steps that are necessary to maintain a clean and healthful dental office. You can attend your next appointment with total confidence that you are entering a safe environment.
Cleaning and Protecting Surfaces
Any high-touch surfaces, such as countertops and door handles, are cleaned frequently. Often, it is necessary to wipe down these surfaces with regular cleaners and water to remove any visible signs of soil. Then, a medical-grade disinfectant can be used to kill microorganisms that might be lingering on it.
Due to their shape, location, or other factors, some surfaces need more than a simple wipe-down to stay clean. Keyboards and certain parts of the patient chairs in the operatories are a few examples. To protect these areas and make sure they stay in line with the highest standards of cleanliness and safety, your dental team might cover them with disposable plastic barriers, which get replaced after every patient.
Cleaning and Protecting Dental Instruments
Even before the COVID-19 outbreak, strict measures were in place to ensure that any items that came into contact with patients' mouths were sterile. Dental teams have not missed a beat when it comes to keeping their instruments clean. They continue to adhere to sterilization protocols, which include:
Pre-soaking instruments to prevent biological debris from drying and hardening on them
Pre-cleaning instruments to remove any visible signs of dirt or debris
Drying the instruments and carefully packaging them
Placing the packaged instruments into an autoclave (a machine that uses hot steam to kill viruses and bacteria)
Additional Cleaning and Safety Measures
The steps mentioned above are essential for maintaining a clean and safe clinical environment, but your dental team strives to go above and beyond those basic measures. They may also:
Change their clothes at work to make sure that no debris from outside garments comes into contact with patients
Modified scheduling to allow additional time with patients
Perform a deep cleaning of the dental office every evening after closing
Wear additional personal protective equipment
Have procedures in place to encourage social distancing to the extent possible
COVID-19 has changed the world of dentistry in some ways — but it has not changed your dentist's dedication to protecting your smile and your overall health. You can go to your next appointment with full trust that your dental team is keeping your safety at the forefront of their minds.
About the Author
Dr. James T. Gray is a dentist in Arlington with more than 30 years of experience. He is a member of the Texas Dental Association, the Fort Worth District Dental Society, and the American Dental Association. He and his entire team are proud to be able to continue to provide world-class dental care to patients even in these uncertain times. To learn more about how our practice is working to fight the spread of COVID-19, or to schedule your next appointment, contact us at 817-460-4131.
Comments Off

on The Right Way to Clean a Dental Practice During COVID-19
No Comments
No comments yet.
RSS feed for comments on this post.
Sorry, the comment form is closed at this time.