April 12, 2020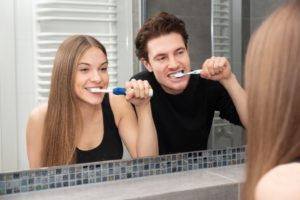 Over the years, you may have established a habit of visiting your dentist in Arlington once every six months for a cleaning and checkup. You certainly deserve commendation for your dedication to maintaining your oral health! But since many dental offices are currently closed, you might be worried that your smile is going to suffer. There is no need to fret. Let's discuss why most dentists have temporarily shut their doors and discuss some practical steps you can take to protect your oral health until things get back to normal.
Complying with Social Distancing
The American Dental Association and the Centers for Disease Control are strongly urging individuals and medical offices to comply with social distancing protocols. COVID-19 is an extremely dangerous and contagious condition, and since people may not immediately show symptoms, it is difficult, and sometimes impossible, to tell whether an individual is carrying the virus.
Hence, dental offices have closed their doors out of concern for the health and safety of their patients, their staff members, and the community in general. Your well-being is their top priority!
Protecting Your Oral Health
Here are some tips to help you safeguard your smile during the quarantine:
Brush Thoroughly
Remember to clean the side of your teeth that faces your tongue, as well as the area along the gumline. Try to brush for a total of at least two minutes twice a day. Some electric toothbrushes even have built-in reminders that help you know how long to spend on brushing each section of your mouth.
Don't Forget to Floss
Flossing cleans the tight spaces between your teeth that your toothbrush cannot get to. You should floss once a day, preferably before you go to bed. Sleeping with food particles and bacteria on your teeth increases your risk of developing cavities.
Use a Mouthwash
A mouthwash can help to clean out all the little nooks and crannies in your mouth. A fluoridated mouthwash with bacteria-killing properties may be best for your oral health. Swish with it for 30 – 60 seconds either before or after you brush.
Cut Back on Quarantine Snacks
If you are spending most of your time at home during the COVID-19 crisis, you might find it all too easy to indulge in a lot of snacks throughout the day. Unfortunately, frequently eating exposes your teeth to acid attacks, especially if you are consuming foods with a lot of sugar. Sticking to a balanced, healthy diet can do wonders for your oral health!
Social distancing protocols are temporary. Soon, dentists will resume normal operations. In the meantime, do your best to care for your smile at home.
About the Author
Dr. James T. Gray is a general dentist with more than 30 years of experience. He is a graduate of the University of Texas Dental School at San Antonio, and he has completed advanced training in numerous areas of dentistry. He looks forward to seeing his patients when COVID-19 restrictions end. In the meantime, feel free to contact our team at 817-460-4131 if you have questions or concerns about your oral health.
Comments Off

on Keeping Your Smile Healthy Until Your Dentist Reopens
No Comments
No comments yet.
RSS feed for comments on this post.
Sorry, the comment form is closed at this time.