February 3, 2020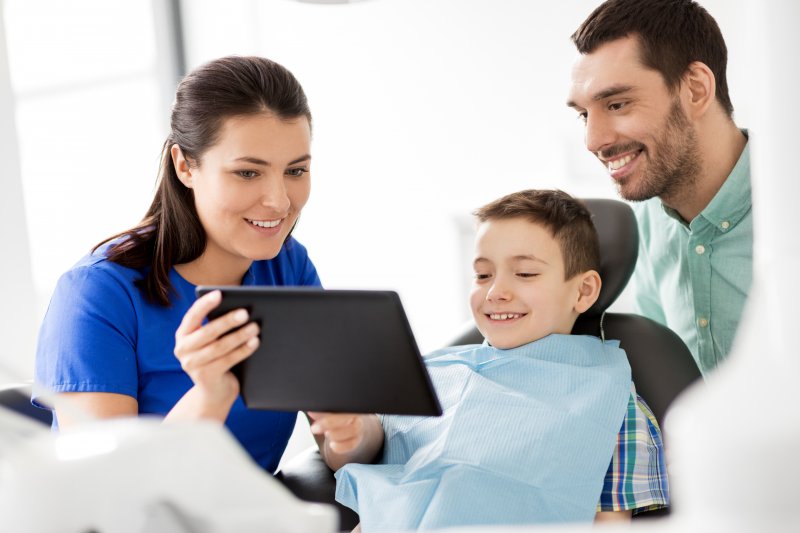 February is Children's Dental Health Month, and that means it's time to ensure your child's teeth and gums are up to par. Even the youngest smiles are prone to tooth decay and cavities, so it's important to develop good oral habits from an early age. As an ally in the fight against all types of dental problems, your child's dentist in Arlington wants only the very best for their growing and developing teeth and gums, which is why he is happy to share 5 tips to help keep their smile looking its best all year round.
Maintain Regular Six-Month Checkups and Cleanings
The American Dental Association and your child's dentist both recommend that children should have regular checkups and cleanings every six months to prevent tooth decay, cavities, and gum disease from developing. Because children often have minimal dexterity when it comes to effectively brushing and flossing their teeth, it makes them more vulnerable to certain dental problems. This is why making sure your child gets in to see their dentist twice a year is important, as a professional can check for problems before they start as well as remove any plaque and tartar buildup around the gum line.
Practice Oral Hygiene Together
Instead of allowing your little one to take on the responsibility of brushing, flossing, and rinsing, and trying to do it right, why not make it a family affair? Turn on some music and have a little dance party while you and your child brush your teeth. When finished, help them floss to remove harmful bacteria from between their teeth, and finish the routine with an anticavity fluoride rinse. Not only will this allow you to watch how they care for their teeth and gums, but it also gives them encouragement to take care of their oral health because they're watching you do the same.
Eat a Well-Balanced Diet
Incorporating healthy foods into their diet will not only be beneficial to their overall health but also their teeth and gums. Lean proteins, fruits, vegetables, dairy, and leafy greens can work to prevent gum disease and tooth decay, all while serving to fuel them with the nutrients they need to function each day.
Limit Sugars and Starches
A treat every now and then is fine but allowing your child to have too much sugar or carbohydrates can lead to possible tooth decay, not to mention a host of other health problems. When sugar sits on the teeth for too long, it can cause bacteria to grow and spread within the enamel of their teeth. Should this happen, you can expect cavities to develop, which will require fillings or treatment that is more extensive if not caught early. Make sure to read the labels when at the grocery store and opt for healthy snacks instead of candy or chips.
Protect Teeth from Injury
If your child enjoys playing sports or engaging in outdoor activities, it is in their best interest to wear a mouthguard. This type of oral device can protect their teeth and soft oral tissues from damage should they suffer a hard hit of any kind.
Give your child a chance for better oral health as they grow and develop. By following these simple tips, you'll be helping to keep your child's smile looking its best in 2020.
About the Author
Dr. James Gray has been practicing in the field of dentistry for more than 30 years. Earning a bachelor's degree in biochemistry from the University of Texas, he went on to graduate from the University of Texas Dental School at San Antonio. Dr. Gray and his team want to help even the youngest patients achieve healthy smiles, which is why he is pleased to offer children's dentistry services. Providing gentle and compassionate care, he also discusses tips and techniques that encourage proper oral hygiene at home. For questions about our services, visit our website or call (817) 460-4131.
Comments Off

on Children's Dental Health Month: 5 Tips to Ensure a Stellar Smile
No Comments
No comments yet.
RSS feed for comments on this post.
Sorry, the comment form is closed at this time.