January 7, 2020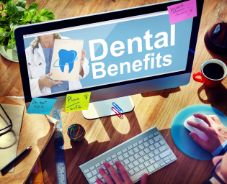 Did you know that billions of dollars in dental insurance benefits are wasted each year? Most plans expire on December 31st, and your insurance money disappears if it's not used by then. Fortunately, there are some easy ways to use (instead of lose) your benefits, starting with seeing a dentist in Arlington early in the year. Keep reading to learn how to keep your smile healthy and get the most from your plan in 2020!
Schedule Now To Maximize Your Dental Insurance
Assuming that your benefits renew on January 1st (always check to make sure), you'll have a whole new "annual maximum" to use over the course of the year. Usually between $750 and $1,500, this is the total amount your plan will spend on your dental work in 2020. That's quite a bit that can go towards improving your oral health, but only if you use it before the end of the year. While it may seem like you have plenty of time, you would be surprised at how many people let the year pass them by without scheduling.
Also, keep in mind that checkups and cleanings are usually covered at 80%-100%, so they cost you little to nothing. These preventive visits are designed to help you avoid major dental problems by finding and treating any issues early on.
By scheduling a checkup now, you'll find out right away if you need any treatment, which gives you plenty of time to schedule it. And since a dentist can sometimes strategically plan your procedures to reduce out of pocket costs, the more time that's left in the year, the better.
What Does Dental Insurance Cover?
Each dental insurance plan is unique, so start by looking over your benefits. Since insurance can be difficult to understand, you can also ask the front desk staff for help. In the meantime, here's a general idea of what your plan may cover:
Checkups and cleanings – As mentioned, preventive care like checkups and cleanings (usually 2/year) are often covered at 80% to 100%. 
Basic dental work – Examples of basic procedures include fillings and extractions, which are usually covered at 60% to 80%. 
Major dental work – Major treatment such as dental crowns, bridges, and dentures are typically covered at 50% to 70%.
To use your plan to your advantage in 2020, schedule your visits now. With this one simple strategy, you'll achieve great oral health as affordably as possible.
About the Author
Dr. James Gray has been a family dentist in Arlington for over 30 years and graduated from the University of Texas at San Antonio. He and his team want to help everyone afford dental care and are always happy to help patients maximize their coverage. If you'd like to get more from your plan or have any questions, you can contact his office via phone or his website.
Comments Off

on New Year, New Dental Insurance Benefits! Schedule With a Dentist Now
No Comments
No comments yet.
RSS feed for comments on this post.
Sorry, the comment form is closed at this time.