October 30, 2019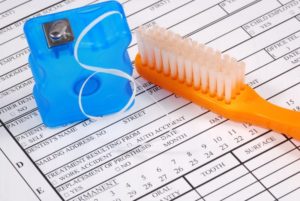 As the weather turns colder, your schedule fills up with get-togethers, festivities, and additional errands. You try to plan out the next couple of months, but then you realize that you have seen the dentist only once so far this year. Do you skip this visit and just wait until next year when you have more time? Although it may be tempting to put this appointment at the bottom of your priority list, doing so could end up costing you far more in the future. In this post, you'll learn three reasons why you should take advantage of your dental insurance benefits and save a significant amount of money.
You've already paid monthly premiums.
Every month, like clockwork, you pay your phone bill so that you are able to use your phone whenever you need it. Wouldn't it be ridiculous to pay for unlimited data, minutes, and texts if your phone sat for days untouched? Yet many people basically do this with their dental insurance benefits every year.
Sometimes people say that having dental insurance makes preventive care "free." But the truth is that you make payments every month toward your coverage. In many cases, those who have dental insurance may not need to pay anything out-of-pocket for preventive services (e.g., cleaning, X-rays, fluoride treatment). Skipping your routine dental appointment doesn't save you any money in the end. Rather, it puts your smile at a higher risk for problems down the road.
If you don't use your benefits, you'll lose them.
Unlike vacation days from work, dental insurance benefits unfortunately do not carry over into the new calendar year. You will still only get two checkup and cleaning appointments starting in January with partial coverage for restorative care. In most cases, it is not advantageous to wait to complete necessary dental care. Unless you're already close to meeting your yearly maximum, or the highest amount that your dental insurance will contribute, postponing important services will likely cost you even more later on.
Have peace of mind for the holidays.
In the hustle and bustle of the holiday season, many mundane tasks are set aside. You may not think that you have time for a dental appointment right now, but without this critical care, you could experience an inconvenient, and unpleasant, dental emergency later. A severe toothache caused by tooth decay can put a damper on your holiday spirit and hurt your gift budget. By taking care of this important routine visit early on, your odds of avoiding a physically and financially painful situation significantly increase. Basically, taking care of your smile with a routine checkup and cleaning can help you feel confident in your healthy smile.
Has it been a while since you last saw your dentist for a checkup and cleaning? Now, in October, is the perfect time for you to complete this preventive appointment and any other dental care you need. That way, you can enjoy the holiday season without worrying about your smile. Contact your dentist in Arlington to schedule an appointment today!
About the Author
Dr. James T. Gray has over 30 years of dentistry experience, but he continues to hone his skills in the latest technologies and techniques with organizations such as the CEREC study club in Dallas and the Implant Team International study club. He and his team accept dental insurance and are happy to answer any questions about coverage. To schedule an appointment with Dr. Gray, you may call (817) 460-4131 or click here.
Comments Off

on 3 Reasons to Use Your Dental Insurance Benefits with Your Dentist
No Comments
No comments yet.
RSS feed for comments on this post.
Sorry, the comment form is closed at this time.