February 21, 2019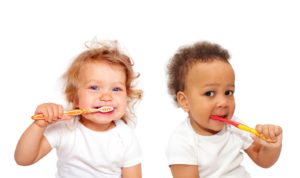 February is famous as the month of romantic love and the time of year when we give extra attention to black history. But did you know that it is also National Children's Dental Health Month? If you have little ones in your family, now is the ideal time to pause to consider how their oral health is faring. You should also think about how you can improve your efforts to instill good oral health habits in them that will last a lifetime. A children's dentist in Arlington is here to discuss the importance of inculcating good dental practices at a young age and provide some tips to help you do just that.
The Value of Good Habits
Some parents make the mistake of waiting to teach their children about oral health until after their permanent teeth start to erupt. However, that is a serious mistake. Primary (baby) teeth can hurt just as much as permanent teeth if they suffer from decay or infection. Moreover, those little pearly whites play a pivotal role in how permanent teeth develop and erupt. You should be focused on helping your child to adopt good oral health habits from the time you see their very first tooth emerge from the gum line.
The lessons you instill in your child during their impressionable formative years are likely to stand the test of time. By making sure your kid understands the importance of brushing, flossing, regular dental visits, and making healthy snack choices, you can set them up for a lifetime of healthy, happy smiles.
Tips for Teaching Good Habits
Here are some suggestions that might help you teach your little one how to maintain a healthy mouth:
Set the example. When your child sees that you take your own oral health seriously, they're likely to follow suit. You might even go through your nightly oral hygiene routine at the same time and use the opportunity to teach them proper brushing and flossing techniques.
Use age-appropriate educational materials. The American Dental Association's website has tools you can use to teach your kids. You could also search for videos on YouTube or other sites that teach oral health lessons in a fun, kid-friendly way.
Go grocery shopping together. When you're at the grocery store, you can look at food labels with your children to help them understand how to choose low-sugar snacks.
Enlist your dentist's help. The team at your dentist's office may be able to explain oral health concepts to children in a way that's easy for them to digest.
How are you doing at teaching your child good oral health habits? If you see room for improvement, now is the time to make changes that will benefit your little one's smile for a lifetime to come.
About the Author
Dr. James T. Gray is a general dentist with three decades of experience. He is happy to work with patients of all ages, including young children. As a father himself, he has a personal appreciation for the importance of teaching kids how to care for their oral health. If is time for your child's next checkup, contact our office at 817-460-4131.
Comments Off

on A Children's Dentist Offers Tips for Teaching Your Kids Good Habits
No Comments
No comments yet.
RSS feed for comments on this post.
Sorry, the comment form is closed at this time.