August 1, 2018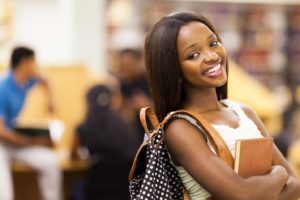 There's something special about the beginning of the school year. The promise of a new beginning, the adventure of meeting new people, and the thrill of learning all come together to create a unique and positive feeling. But what if you're dreading another year of hiding your smile because you're embarrassed by your crooked teeth? Whether you are a teacher or a student in high school or college, now may be the perfect time for you to straighten your smile with Invisalign in Arlington.
Discreet and Effective
You can expect to have your picture taken at least a few times at the start of the school year, whether it's professional photos for the yearbook, selfies with your friends, or special moments at Homecoming that deserved to be captured. The last thing you want is to have those photos marred by a mouth that is full of brackets and wires. Invisalign's aligners are made of clear plastic, a fact that makes them extremely discreet. You'll be able to smile with confidence.
What's even more remarkable is that Invisalign tends to produce results very quickly. Although the total length of your treatment may be several months or longer, you may begin to see results within the first three months or so.
Convenient Eating and Oral Hygiene
Traditional braces come with a laundry list of dietary restrictions, which can be a bummer when your friends or coworkers want to share sticky or chewy treats with you. Since Invisalign aligners are removable, you won't have to worry about that. Simply take your aligner out of your mouth, enjoy your food, clean the aligner and your mouth, and replace it back on your teeth.
Invisalign's removable nature also makes oral hygiene a breeze; you won't have to take a lot of time out of your lunch period so you can meticulously clean behind a bunch of brackets and wires. Just give your aligner a quick rinse, brush your teeth, and dive straight back into your daily routine.
A Fit for Adults and Teens
Over five million people have benefited from Invisalign, including over one million teenagers! Some features of this treatment that make it ideal for so many people include:
A compliance dot for teens. Parents can monitor whether their adolescent is wearing their aligners the recommended about.
Fast checkups. You'll need to come in every 6 – 12 weeks or so for a quick appointment so the dentist can check your progress and give you new aligners.
Comfort. Invisalign aligners are made of smooth thermoplastic, which keeps irritation of the soft tissues inside your mouth to a minimum.
Invisalign is a remarkable treatment that can help you start the school year with new confidence! Why not ask your dentist in Arlington if it is a fit for your circumstances?
About the Author
Dr. James T. Gray, your certified Invisalign provider in Arlington, has been in practice for over 30 years. He derives great satisfaction from helping his patients to achieve healthy, straight smiles. If you have questions about Invisalign or any other oral health treatment, contact our office at 817-460-4131.
Comments Off

on Invisalign Helps You Start the School Year With a Straighter Smile!
No Comments
No comments yet.
RSS feed for comments on this post.
Sorry, the comment form is closed at this time.