July 9, 2018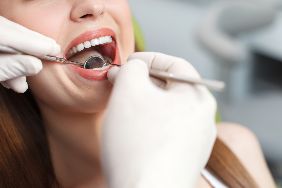 There's no question that modern life is busy for just about everyone. You really have to pick your battles and decide what's worth devoting your precious time to. Washing your car each week? You can skip that without major consequences. Routine visits with your dentist in Arlington? You can't neglect those without risking serious repercussions! You might only think of these visits as an opportunity to get your teeth cleaned, but the truth is that they prevent the need for major dental work down the road and can even keep your whole body healthier. In this blog, you'll find out more about the risks of skipping your checkups and whether it's ever okay to postpone dental treatment!
What Are the Risks of Missing Routine Dental Appointments?
Just like failing to take your car in for oil changes and tire rotations can lead to a breakdown later, missing your checkups can lead to bigger problems as well:
Major dental work – It's much easier and less expensive to treat a small cavity than a large one. Many people don't feel tooth decay until it's gotten near the nerve of the tooth, but at that stage it might require a large filling or crown. Severe cavities that have caused a toothache or abscess may need a root canal to save the tooth.
Gum disease – Gum disease is one of the leading causes of tooth loss, but regular care can prevent it or manage it so it doesn't progress to more advanced stages. Researchers have also found that gum disease increases the risk for many serious conditions like heart disease, stroke and Alzheimer's. Regular checkups help you have healthy gums, which contribute to good overall health!
Emergencies – When a professional can closely monitor your teeth and gums every six months, they're able to spot potential problems and head them off before they turn into emergency situations.
Is It Ever Okay To Delay Recommended Treatment?
Generally speaking, when a dentist has recommended treatment, you have two choices: Either you can decide when to take care of it – or your tooth can decide for you! It's much better to schedule treatment at a convenient time instead of risking an emergency in the middle of the night, on vacation, or during a busy work week.
Having said that, if you have certain circumstances that make it difficult to get the treatment you need, never hesitate to talk to your dentist about it. That way you can get a better idea of what the risks of waiting are.
Remember, an ounce of prevention is worth a pound of cure – especially when it comes to your oral health!
About the Author
Dr. James Gray is a general, restorative and cosmetic dentist in Arlington with over 30 years of experience. He knows that his patients who get consistent, routine dental care need less dental work overall than those who don't, so he always encourages everyone to come in for checkups every six months. If you have any questions, he can be reached via his website or at (817) 460-4131.
Comments Off

on Think Twice About Skipping Your Checkup With a Dentist in Arlington!
No Comments
No comments yet.
RSS feed for comments on this post.
Sorry, the comment form is closed at this time.