April 25, 2018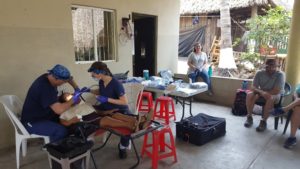 We just returned from a weeklong mission trip in Guatemala with Christ Chapel Bible Church, partnering with Manna International. We had two general dentists, two physicians, two nurse practitioners, eleven nurses and allied health professionals, and four people who worked with children's ministry through the week. It was great to have Sherry join me on her first international mission trip. We had an amazing week and helped around 800 people with medical, dental, vision and spiritual healing. The team set up clinics in five different cities from the coast on Monday up to the mountains north of Guatemala City Tuesday through Thursday.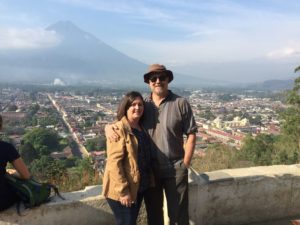 Dr. Ron Lee led the trip. He and I saw 125 dental patients during the week. It was heartbreaking to see five and six year old children with devastating decay in all of their primary teeth, requiring extractions. The people that we saw were amazing, resilient folks who expressed appreciation and even joy in their hardship. We had translators, but the volume of patients made it necessary for me to try my best at speaking the little Spanish that I know.
We stayed at Casa Mana, or Manna House, in San Cristobal. There is an orphanage on the property and we had dinner with the twenty five orphans that live there on Wednesday night. There is a very dedicated staff and nannies that come during the daytime to help care for the youngest children. Our hosts, Bill and Deanna are full-time missionaries who host different teams throughout the year. Our guide and driver was named Ryan and he lives in the Fort Worth area, but guides teams about 38 weeks each year, primarily in Asia. He will be guiding a CCBC medical trip to Cambodia in January.
I look forward to returning to Guatemala, the need is great. I appreciate your support through prayers, and a special thanks to those of you who partnered with us in supporting the expenses for the trip.
Blessings,
Jim and Sherry Gray
Comments Off

on Dr. Gray Shares his Experience in Guatemala
No Comments
No comments yet.
RSS feed for comments on this post.
Sorry, the comment form is closed at this time.