April 4, 2018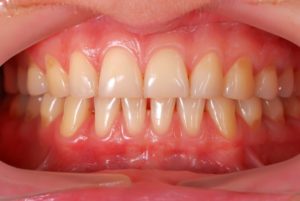 Oral cancer takes a life every hour in the United States. With nearly 50,000 new diagnosed cases reported every year, it's become incredibly important for dentists and other medical professionals alike to work together in the fight against oral cancer.
When you visit your dentist, you may not even realize that your checkup also consists of an oral cancer screening. Since April is Oral Cancer Awareness month, your dentist in Arlington thought it would be important to mention this life-saving screening and explain why he does it for every incoming patient.
All Patients Carry Some Risk for Oral Cancer
While it's more common for people diagnosed to have at least one risk factor, more and more patients are being diagnosed even if they have no risk factors at all. This proves how important it is to make dental visits every six months, even if you don't think anything is wrong. Only a medical professional can confirm your oral health status, so take advantage of your bi-annual visits to get peace of mind.
Furthermore, patients who carry the following risk factors should stay extra diligent or make necessary habit changes. Risk factors for oral cancer include:
Gender (men are at higher risk overall)
Smoking or tobacco use
Heavy alcohol use (smoking in tandem with drinking dramatically increases your overall risk)
HPV (human papillomavirus)
Being over 40 years of age
Having an unhealthy diet
Prolonged sun exposure
What are the Symptoms for Oral Cancer?
Your dentist is fully capable of recognizing the markers for health problems in general, not just tooth decay and gum disease. In fact, markers for diabetes and heart disease both exist in the mouth, so visiting the dentist is just as necessary for protecting your overall health, not just your oral health.
When looking for early signs of oral cancer, your dentist is checking for:
Red or white patches in the mouth
Lumps or hard spots
Sores that fail to heal or regularly bleed
Additionally, make sure you inform him of any numbness or pain when biting down on your teeth. If your dentist needs to confirm if you have oral cancer, they will refer you to an oral surgeon who will take a small biopsy of your tissue and have it tested at a lab. From there, he can move on or recommend the best steps to take when seeking treatment.
How You Can Protect Yourself at Home
While you should be visiting your dentist every six months for routine checkups, it's also important to remain diligent at home. This means practicing a 5-minute self-exam every month in the mirror. The exam is very simple and doesn't require any special tools to complete.
First, find a well-lit room with a mirror and examine your mouth, lips, tongue, throat, and neck. Make sure to check the insides of your cheeks and all the surfaces of your tongue for abnormalities. As previously mentioned, these include lumps, bumps, white/red patches, and bleeding sores.
Oral cancer is easiest to treat in the early stages and will give you the best fighting chance if you're diagnosed. We hope you schedule an appointment with us today to confirm your health status!
About the Author
Dr. James T. Gray earned his Doctor of Dental Surgery degree from the University of Texas Dental School at San Antonio. If you notice changes in the color or texture of your soft tissue, experience a chronic cough or hoarse throat, or notice any sores or lumps in the mouth, contact your dentist in Arlington at (817) 460-4131 or visit his website.
Comments Off

on Why Your Dentist in Arlington Performs Oral Cancer Screenings
No Comments
No comments yet.
RSS feed for comments on this post.
Sorry, the comment form is closed at this time.